Clever ideas and innovative technologies in trend-setting designs – Siemens refrigerators and freezers are the best way to store food flexibly and properly. From our smallest refrigerator to our most impressive side-by-side models, all bring you more freshness and convenience. You can set up all freestanding cooling appliances in a simple and flexible way.

Freestanding black fridge freezers
Standing upright, at ease in their own space, the range of Siemens freestanding fridge freezers in black have a beauty of their own, at the same time as effortlessly fitting in with the design of your kitchen.
A major part of the attraction of these freestanding fridge freezers comes down to their inherent sense of individuality. One of the key advantages of these stand-alone black-doored Siemens appliances is that you can position them in any relevant space in your kitchen area – almost no matter where they are in view, they will become a talking point.

Freestanding stainless-steel fridge freezers
Stand-alone freestanding fridge freezers from Siemens offer variety and flexibility, and when you choose the appealing exterior of a stainless-steel model, they easily catch the attention. These fridge freezers leave nothing to be desired in terms of convenience, thanks to the many innovative technologies and functions for which Siemens home appliances are renowned.
You can set up freestanding refrigerators simply and flexibly – and connect them easily. And when you choose the smooth, cool look of a stainless-steel model, the side walls are the same colour as the appliance front. This means that your freestanding fridge-freezer in stainless steel looks good from any angle.

Side-by-side fridge freezers are spacious and covenient
Experience a new dimension of freshness with the Siemens side-by-side fridge freezers. With these attractive side-by-sides, the refrigerator and freezer are right next to each other. They offer plenty of space for all your groceries and therefore represent a whole new way to get more space while looking super-modern with the black exterior.
Siemens offers both European and American-style fridge freezers. American models combine fridge and freezer in one unit, and add pure luxury. For example, some models feature automatic ice makers.

hyperFresh premium. Fresh for three times longer
Enjoy tasty freshness for up to three times longer. Thanks to hyperFresh premium 0°C, it is easier than ever before. You just have to select the kind of fruits and vegetables you want to store with the new aesthetic knob control for the excellent humidity level. And thanks to the 0°C drawer, fish and meat are also provided with the perfect temperature.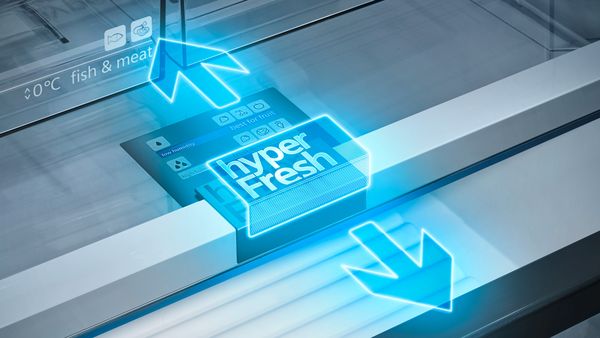 hyperFresh plus. Fresh for two times longer.
The new hyperFresh plus drawer doesn't just look good, it's pretty smart too. It makes it easy to provide your food with the right conditions and keep it fresh for much longer than usual. Whether it's fruit or vegetables, you just have to select what you need and the humidity will be adjusted.

hyperFresh. Enjoy freshness longer.
The hyperFresh drawer offers freshness for longer and is extremely easy to handle. Furthermore, both form and function is designed to provide a good environment for your fruits and vegetables. As a result, you can see the quality, feel the freshness, and rely on your taste.

Defrosting has become obsolete: noFrost Technology.
The sensors inside Siemens noFrost fridges deliver all the information needed to define the precise defrosting cycles for the appliance – for instance about the ambient temperature and the number of door openings. These controlled defrosting cycles prevent the build-up of frost on the inside of the fridge-freezer, which also keeps energy consumption consistently low. So you never have to defrost the freezer again – saving you time and effort.

The LED lights up the interior brightly and evenly, without dazzling.
The new integrated long-lasting LED lights are are seamlessly integrated in the side walls or ceiling and illuminate the interior evenly and perfectly without irritating you.